Der VW ID. BUZZ Cargo ist die Nutzfahrzeug-Version des VW ID. BUZZ. Erstmals wurde im Mai 2018 der VW ID. BUZZ Cargo auf der IAA in Hannover präsentiert. Damals als Service-Fahrzeug für den vollelektrischen Rennwagen VW ID. R Pikes Peak.
Gemäß dem bisherigem Konzept, soll der VW ID. BUZZ Cargo eine Nutzlast von 800 kg haben. Ihn wird es zuerst als Heckantriebvariante geben und möglicherweise später auch als Allradversion. Typisch für derartige Nutzfahrzeugvarianten, ist die fensterlose Heckpartie und die Flügeltüren im Heck. Wahlweise wird es den VW ID. BUZZ Cargo sicher auch mit einer Schiebetür geben.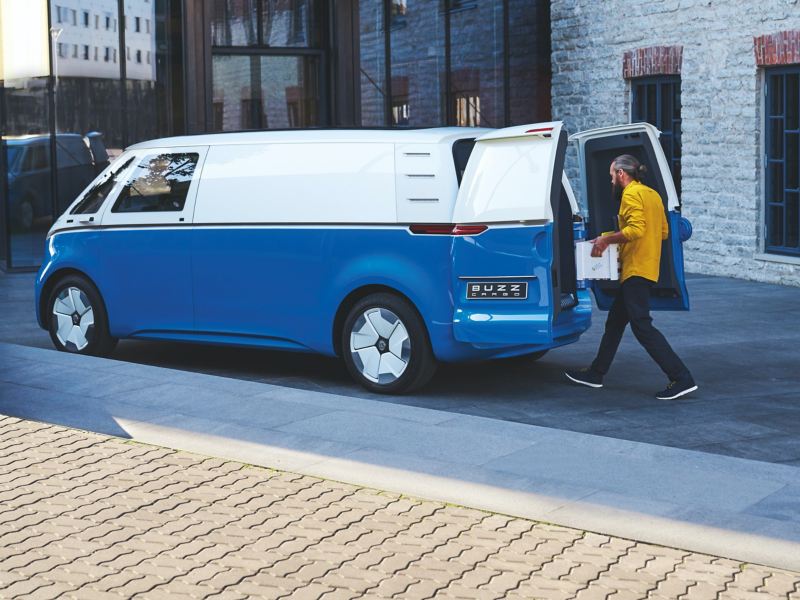 (Quelle: Volkswagen)
In einer Kooperation von Volkswagen mit dem Sportausrüster Nike, wurde die Werbekampagne "Blue Ribbon Sports" als Retro-Dsign mit dem VW ID. BUZZ Cargo gestartet.
Zitat We've been friends since the 60s. To celebrate the return of Blue Ribbon Sports we gave Nike the ID. BUZZ CARGO concept to serve runners coast to coast with fresh gear. To learn more about the collaboration, click here.




About Volkswagen of America:




Founded in 1955, Volkswagen of America, Inc., an operating unit of Volkswagen Group of America, Inc. (VWoA), is headquartered in Herndon, Virginia. It is a subsidiary of Volkswagen AG, headquartered in Wolfsburg, Germany. VWoA's operations in the United States include research and development, parts and vehicle processing, parts distribution centers, sales, marketing and service offices, financial service centers, and its state-of-the-art manufacturing facility in Chattanooga, Tennessee. The Volkswagen Group is one of the world's largest producers of passenger cars and Europe's largest automaker. VWoA sells the Atlas, Atlas Cross Sport, Beetle, Beetle Convertible, e-Golf, Golf, Golf GTI, Golf R, Jetta, Jetta GLI, Passat, and Tiguan vehicles through more than 650 independent U.S. dealers.